Running Dogs offers private studio lessons in most stringed instruments, including acoustic guitar, banjo, violin, electric guitar, bass, mandolin, fiddle, classical guitar, and ukulele. Our professional staff are experienced performers and instructors and work with all levels of students, from beginner to advanced. We accept both youngsters and adults.
Meet Our Instructors:
Abby Casper
Fiddle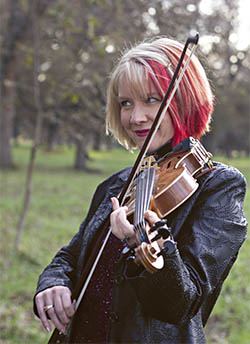 Abby Shaiebly Casper began playing classical piano at an early age and then switched to violin at the age of 12 in the middle school orchestra.  Soon after, she began private lessons from Ed Richmond, learning Western swing-style fiddling.  After a few years she began studying under Rick Morton, to focus on bluegrass which led to her role in her family bluegrass band, The Peach Pits. She began playing professionally at age 15 and hasn't looked back.  In college, she and some friends formed Loosepegs and performed together for a few years. Throughout adulthood she has played a supporting role in worship bands on upright bass, bass guitar, fiddle, acoustic guitar, mandolin, accordion and backing vocals.  She was part of the Bartlesville-based pub band, Kilkenny Road, playing Irish music and has been one third of Vintage Wildflowers for 14 years and counting, playing a variety of venues including The John F. Kennedy Center for the Performing Arts. Abby currently teaches ages 4 and up, fiddle and harmony vocals.
---
Rick Morton
Fiddle, Mandolin, Guitar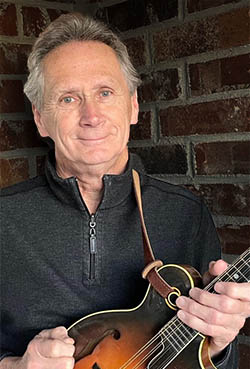 Rick is a fulltime musician and has played professionally for over forty years in a wide variety of bands and has taught students for three decades. His focus as a teacher is to find the areas in which a student needs improvement and turn it into a strength for them. He believes that no matter what level of player you are, whether beginner or professional, you can reach your goals with hard work.
Rick has played with many country artists including Ronnie Dunn (when they won the Marlboro National Talent Roundup) and The Tractors, including on the double platinum album The Tractors.
---
Trish Davis
Violin, Guitar, Ukulele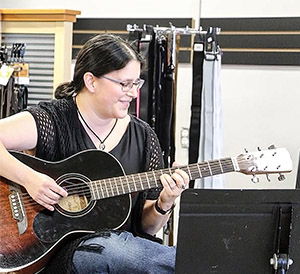 Trish began playing the violin at the age of 10 years old. Through middle school and high school she picked up the guitar as well and began her professional music career at the age of 16 when she started teaching. Since then, she has completed a Bachelor of Arts in Music from the University of Tulsa. Over the years she has performed with many groups all over the country. Today she has over two decades of teaching experience and is active as a guitarist in the punk/metal band Spank, guitarist in the duo Trish and John, and co-owner and violin performer for Save the Date Musicians, a professional string trio based in Tulsa.
Austin Williams
Classical, Electric, and Acoustic Guitar, Bass, Ukulele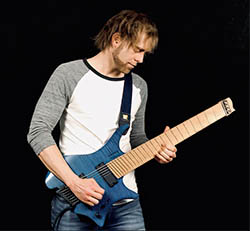 Austin has a Bachelor of Science in Music from Radford University, where he studied classical guitar. He has performed in a variety of bands and ensembles whose genres include jazz, rock, folk, flamenco, and metal. In addition to being involved in music performance, composition, and production, Austin has 10 years of experience teaching music to all ages.
He teaches guitar, electric bass and uke in various styles, including classical, jazz, rock, blues, metal and folk.
---
Roy Hood
Banjo, Dobro, Bass, Guitar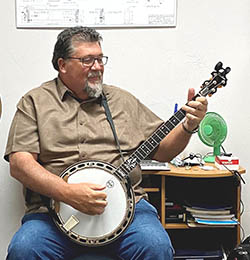 Roy Hood is an accomplished multi-instrumentalist, proficient in a variety of stringed instruments.  He has been teaching for approximately 35 years and has been teaching at Running Dogs Music since the business opened in 2020.  Roy has a passion for teaching both beginner and experienced students, specializing in banjo, electric and upright bass, lap steel and dobro.  He plays bass, guitar and banjo with and is a founding member of The Rearview Mirror band.
---
Tom Russell
Clawhammer and Bluegrass Banjo, Ukulele, Guitar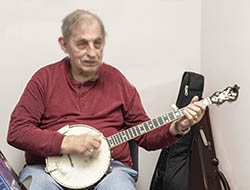 Tom is originally from Alabama, where learned to play ukulele from his mother, who was a professional uke player in the 1920s. He added guitar and banjo during in high school when folk was the popular music style. He started teaching banjo and folk guitar during college, mostly Pete Seeger and clawhammer banjo. He soon switched to bluegrass banjo and added Scruggs style banjo to his teaching resume, and started a career as a staff recording engineer with Widget studios. Soon he was called to Tulsa to be the Chief Engineer for Leon Russell's Shelter Records Studio (now the Church Studio).
Tom later was head engineer at other studios, and then became interested in pro audio design, and joined Quintessence Audio Design. He continued teaching private lessons at Bishline Acoustic Academy and now offers lessons at Running Dogs.